Sinhagad Fort
The Sinhagad Fort comes under the list of some oldest forts of India. The establishment of this fort dates back to about 2000 years ago. Many major and memorable battles of the Indian history have fought under the Sinhagad fort since its establishment between diverse troops. There are ancient carvings available on the walls of the fort, which dates back to about 2000 years old. In 1328, the fort was under the control of the Mughal Emperor, having been captured from Nag Naik (Koli tribal chieftain).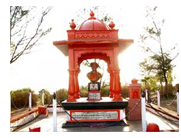 From then onwards, there use to be constant minor and major battles between the Maratha Dynasty and Mughal Empire to have control over the debatable fort owing to the prime importance of its location. The Sinhagad fort is located at the center of other forts like Torna, Purandar and Rajgad.
The fort was constructed at the top of a hill that is about 1312 meters higher than the sea altitude. There were only two gates built for the entrance and exit of the fort that too at principal positions. Both the gates, ?Kalyan Darwaja? and Pune Darwaja? displays full sight of the southeastern region and northeastern region respectively. Owing to such special features and natural protection from the surrounding of the fort, there were continuous races by empires controlling the western India to conquer the valuable fort. Though the ownership of the fort keeps on changing after certain period or so, the Maratha Empire held this fort for a longer period as compared to others and it finally surrendered the fort to East India Company that has controlled whole of the India by that time in 1818.
Sinhagad Fort Map

View Sinhagad Fort in a larger map
How To Reach
By Air
Chatrapati Shivaji International Airport, Mumbai (BOM) 73 km.
By Rail
Nearest railhead is Vir Dasgaon 47 kms.
By Road
State transport offer bus regular and frequent services from Mumbai and Pune to Raigad. Kolhapur (250 km), Pune (150 km), Mumbai (140 km) and Mahabaleshwar (75 km). Public bus charge is less than Rs 2 per km.
Nearest Tourist Place
| | |
| --- | --- |
| | khadakwasla Damn |
| | Nanded Fort |
| | Mahabaleshwar Valley |