Raigad Fort
Raigad fort is situated in Sahyadri mountain range of Raigad district in Maharashtra. This fort is situated at about 2700 feet above the sea level. There is a long history of this fort and considered to be existing from 11th century A.D. This fort was in the hands of Maurya Dynasty king Chandrarao Mores. In 1656, the famous ruler in Maharashtra, Shivaji Rao, has acquired the fort under his rule by attacking the Mauryan king and the interesting thing to know is that this fort was the headquarter of the well known Shivaji Maharaja of India. This fort has supported its rulers during battles and war periods, as it contains many hiding places surrounding the fort thereby helping them to attack the enemies eminently. Even during the ruling of British Empire across India, the Raigad district was found to be difficult for the Englishmen to bring under control as the Raigad Fort was in the hands of local king who restricted them from entering the area. At last, the British troops were left with no option other than destroying the fort by cannons in 1765.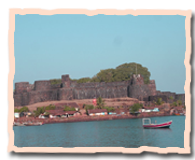 Even after the disastrous attack on the fort, they could destroy only a piece of the fort. This was the result of the strong ancient architecture working on the fort. All the major room of the fort remains intact even today. It is worth watching the Raigad Fort in Maharashtra as it is one of the oldest structures in the state and has a unique history of its existence among the others.
Raigad Fort Map

View Raigad Fort in a larger map
How To Reach
By Air
Chatrapati Shivaji International Airport, Mumbai (BOM) 73 km.
By Rail
Nearest railhead is Vir Dasgaon 47 kms.
By Road
State transport offer bus regular and frequent services from Mumbai and Pune to Raigad. Kolhapur (250 km), Pune (150 km), Mumbai (140 km) and Mahabaleshwar (75 km). Public bus charge is less than Rs 2 per km.
Nearest Tourist Place
| | |
| --- | --- |
| | Pune University |
| | Jagadishwar Temple |
| | Ganga Sagar Lake |