Pandharpur
Pandharpur is a city located in Solapur district to the south of Maharashtra. This city is an important pilgrimage region in Maharashtra. Millions of regular pilgrims across Maharashtra visit this place annually due to its great divinity. The Vithoba temple in the city is the primary pilgrimage point for the visitors. The city of Pandharpur was formed and developed in the banks of River Bhima. It is said that Lord Krishna in the form of Vitthal to eliminate the evil strength from the place and bring love and peace among the people together visited the city of Pandharpur in the Satyug (Era of Truth).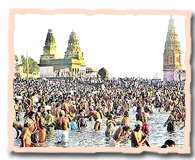 During the 13th century to 17th century, there have been many saints lived here. They have spread the spiritual truths across the region and are famously known by all people since then until now. Pandharpur is visited by millions of people mostly twice in a year. During the Period of June-July and October-November, the pilgrims visit this place in large numbers as these days are said to be very important for the Hindus for worships. The infrastructure development towards this place is safe and good for the travelers.
There is constant transport service available to this pace from various cities of Maharashtra throughout the year. Apart from spiritual importance, the place is best suited for enjoyment visitors. There are boating facilities offered in River Bhima for tourists. The surroundings are evergreen and silent for tourists to enjoy their holidays. There are 24 hours lodging services available in this place.
Pandharpur Map

View Pandharpur in a larger map
How To Reach
By Air
Latur Domestic
Airport -151 km.
Kolhapur Domestic
Airport -161 km.
Lohagaon Domestic
Airport, Pune -186 km.
By Rail
Nearest Railway Station to Pandharpur is at Kurduwadi, at distance of 52 km. away.

The major Railway Station nearby is Solapur, at a distance of 74 km. away.
By Road
Pune - 211 km, Mumbai - 361 km, Hyderabad - 378 km, Goa - 409 km, Bangalore - 641 km, Indore - 700 km, Nagpur - 737 km, Delhi - 1535 km, Bijapur - 112 km, Kolhapur - 182 km.
Nearest Tourist Place
| | |
| --- | --- |
| | Tuljapur |
| | Ajinkyatara |
| | Akkalkot (Shri Swami Samarth Maharaj) |