Panchgani Hill Station
Maharashtra is famous for many things including hill stations. Panchgani is one such hill station, which has gained tremendous tourist attraction in recent years. Panchgani was discovered during the British raj and the credit for availability of various important species of plant like silver oak and poinsettia goes to a officer with the name John Chesson. Due to him today Panchgani is full of beautiful species of plants, which has been its integral part.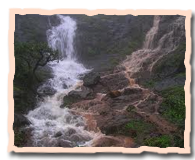 Panchgani is also famous for its pleasant climate for which it is gaining an importance as a famous hill stations in Maharashtra. There are many places here having their own historic significance which made them a tourist attraction. The most famous place here is the Sydney point, which is, situated a hillock facing the Krishna valley. Flowing water of Dhom dam can be seen from here. Other tourist attractions include Table Land, Parsi point, Devil's kitchen, and Mapro Garden. There are many mythology associated with Devil's kitchen due to which it has gained so much of importance. The tableland is also now a famous shooting point of Bollywood movie. Mapro garden as known is the source of best quality jams in whole India.
Education is also now playing an important role here. Some of the best schools of Maharashtra are situated here. Anjuman-E-islam, Arham Jain Vidyalaya are some of the important institutions located here which is a famous source for the best-educated talent in India. Various new hotels with all kinds of packages are coming up here to support the increasing tourist importance.
Panchgani Map

View Panchgani in a larger map
How To Reach
By Air
The Airport at Pune is nearest
to Panchgani at a distance of 98km.
By Rail
Pune is a popular Railway Station for tourists to Panchgani at a distance of 98 km, from Panchgani. Though the Railway Station
nearest to happens to be at Wathar.
By Road
Panchgani is well linked with Mumbai and Pune through road.
Nearest Tourist Place
| | |
| --- | --- |
| | Sydney Point |
| | Krishna Valley |
| | Mapro Garden |