Paithan
Paithan is a Beautiful town located about 56 kilometres south to Aurangabad - Maharashtra, on the bank of river Godavari. Paithan is the town of great saints and philosophers like Saint Eknath, Saint Dnyaneshwar (Aapegaon), and ex-capital of Satvahan dynasty. There is shrine temple of the Saint Eknath. A yearly fair called Nath Shashthi organized at Paithan during months of March-April. Paithan is also famous for its huge garden Saint Dnyaneshwar Garden, which is spreaded across 401 acres and maintained for about 310 acres and it is developed like Vrindavan garden of Mysore. It is also popular for handmade Paithani saree, which is beautifully embroider with golden borders. It is said that its lustre and grace never goes down for about 100 years (minimum), and it may cost about Rs. 4000/- to Rs.200000/-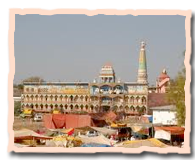 The name "Pratishthan" was given to Paithan by Satvahan emperors and they declared it as their diplomatic capital of their kingdom. The Satvahan dynasty had huge realm distributed across current Maharashtra, parts of Andhra Pradesh and Madhya Pradesh. The capital of the Satvahan's kingdom was located on the bank of holy river Godavari and it was named as Pratishthan i.e. today's Paithan. The dynasty was initiated by the emperor Simuka(Root of the Dynasty) from 230 B.C. and lasted for about 460 years. The Satvahan dynasty came to the lime light after the decline of Maurya Empire led by Samrat Ashok. Satvahans shown a blended culture of Vedic and Buddhist society since they worshiped Buddha, Shiva, Paarvati, Vishnu, the Sun and Moon as well.

Paithan Map

View Paithan in a larger map
How To Reach
By Air
Nearest Airport Aurangabad
By Rail
Nearest Railway Station Aurangabad.
By Road
Paithan is well connected by Road with Aurangabad - 56 Km.
Nearest Tourist Place
| | |
| --- | --- |
| | Dnyaneshwar Watika |
| | Eknath Maharaj Temple |
| | Jayakwadi Dam |