Mahabaleshwar
Mahabaleshwar is one of the renowned hill stations in Maharashtra located in the Western Ghats range. There are many eminent Hill stations in Maharashtra but the Mahabaleshwar stands apart from the others due to the scenic beauty all the year. The rare species of trees in India are found in Mahabaleshwar. This beautiful place is 120 km away from Pune and 285 km long from Mumbai. The other interesting thing about Mahabaleshwar is that the debated Krishna River originates from the Mahabaleshwar. It is specified in history that, King Singhan of Yadava Kingdom found the Mahabaleshwar region in 1215. Satara is the nearest railway station for Mahabaleshwar.
The Venna Lake is the most beautiful place in Mahabaleshwar that is just around the corner to the main city. Panchgani is the nearest hill station to Mahabaleshwar and it is clearly visible from Mahabaleshwar hills. There are many resorts and hotels of highest luxury built on the Mahabaleshwar hills for accommodation. In addition, there is Raj Bhavan built in Mahabaleshwar that serves as a summer residence for the Governor of India. This system was followed from olden days, when there was British Raj in India.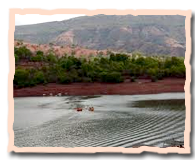 The British administrators made Mahabaleshwar as their summer presidency in lieu of Mumbai during their reign. The Babington House in Mahabaleshwar is one of the prime watch-out for visitors as it was built uniquely with cross structure. The Arthur seat point and suicide points are also the notable locations here. That is the reason why there s constant entry of visitors to this place from across the nation and even from outside India.
Mahabaleshwar Map

View Mahabaleshwar in a larger map
How To Reach
By Air
Pune is the nearest Airport both for Mahabaleshwar
(120 km and Panchgani 98 km)
By Rail
For Mahabaleshwar, the nearest Railhead is Wathar (62 km) but Pune (120 km) is the convenient Railhead.
For Panchgani, the nearest Railhead is Wathar (45 km). Mumbai-Wathar via Pune (312 km). Pune-Wathar (120 km)
By Road
Mumbai via Pune, Panchgani is
270 - km, via Mahad - 266 km,
From Pune 98 kilometers and
From Mahabaleshwar 19 km. The State Road Transport buses ply from Satara, Pune, Wai, Mahabaleshwar and Mahad. MTDC runs a regular bus service between Mumbai and Panchgani.
Nearest Tourist Place
| | |
| --- | --- |
| | Venna Lake |
| | Krishna River |
| | Khandala |