Lonavala - Khandala
Lonavala is a famous hill station on the Sahyadri range of mountains nearby Pune. It is considered as the jewel of all the hill stations in Maharashtra as it is oldest among the many famous hill stations here. Lots of caves and scenic beauties surround the hill stations making it an attractive place for visitors and tourists. The climate of this region is fresh and cool throughout the year. However, the real joy of visiting Lonavala is during the monsoon season, when the entire place becomes lush greenly with waterfalls all around. It is a major station between Mumbai and Pune that serves best stop for Indian Railways and tourists.
Throughout India, the Lonavala city is famous for sweet candy known as 'chikki'. There are numerous resorts and water parks in Lonavala for tourists to enjoy their good time with joy and fun. Lonavala is now said as a land of Multi Millionaires as there are many top class buildings and bungalows built by renowned entrepreneurs for their personal use.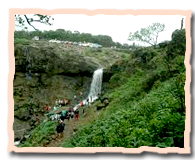 The land rates in Lonavala are matching to that of Mumbai due to its beauty and demand by the people for stay. Access to Lonavala is town is quick and hassle-free as there are constant rails moving back and forth the Lonavala station. It is emerging as a relax point for the rich people from Mumbai and Pune city during weekends who regularly travel here to enjoy their free time. There are about 15 watch points surrounding Lonavala that are worth watching for the visitors.
Lonavala-Khandala Map

View Lonavala in a larger map
How To Reach
By Air
The nearest Airport from Lonalvala is Pune, which is
64 - km from Lonavala.
By Rail
Lonavala is on the main Railway line between Mumbai and Pune, all express trains plying between the two cities stop here.
By Road
The Bus service between Lonavala and Pune is good (2 hours). However, the ride is rough and it takes 4 hours to reach Mumbai from Lonavala. Buses shuttle between Lonavala and Khandala
(5 km from Lonavala - 15 minutes trip).
Nearest Tourist Place
| | |
| --- | --- |
| | Pune University |
| | Valvan Dam |
| | Karla Hill |