Lohagad Fort
Lohagad Fort is situated at a distance of 10 kms from Lonavla and 52 kms from Pune. It was captured by Shivaji Maharaj in the year 1648. Located at an altitude of about 3,400 ft. above sea level this fort lies to the west of the fort of Visapur. It stands on the side ranges of the Sahyadri dividing the basins of the Pavna and the Indrayani River.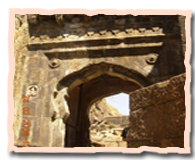 Lohagad Fort which literally means 'the Iron fort' was named after the spiritual leader Lomesh and has got a 2000 year old history attached to it. The fort belongs to the 'Satwaahan' period and is believed to be the meditating place of sage Lomesh. There after the fort came under the Bahamani rule who were defeated by the Nizamshahi forces in the year 1489. The Nizam continued ruling the fort until 1630 and under his reign the fort also served as a prison in the year 1564. After 1630 the Mughal emperor, Adilshah gained control over Lohagad before Shivaji Maharaj captured it from him in the year 1648 right after he had captured the fort of Torna. Netaji Palkar was given the responsibility of looking after the fort and the adjoining areas.
When planning a trek to Lohgad, it is highly recommended to also visit the Bhaje caves located close to the fort which house the ancient Buddhist Viharas and Stupas.
Lohgadwadi is the nearest village from where one can enter the fort through any of its four doors- Narayan darwaja, Ganesh darwaja, Maha darwaja and Hanuman darwaja. Of all the darwajas, the Hanuman darwaja is the oldest. The main gate of the fort is known as the 'Delhi Gate' because of its beautiful design and it is one of the main attractions of Lohgad.
Lohagad Fort Map

View Lohagad Fort in a larger map
How To Reach
By Air
Pune is the nearest Airport for Lohgad Fort. Further journey may be performed by road.
By Rail
Pune is the nearest Railway Station. Further journey may be performed by Road.
By Road
From Pune one can either take a local train operating between Pune and Lonavala and alight at Malawali. From Malawali railway station, the fort is about 9 km away. If one is driving from Pune to Lohagad one has to take the Pune Bombay highways and get off the highway at Malawali.
Nearest Tourist Place
| | |
| --- | --- |
| | Lonavla - Khandala |
| | Purander |
| | Pavana Dam |