Cuisine of Maharashtra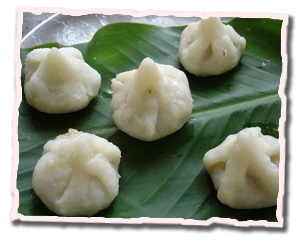 It is well known that Maharashtrians consider their food as 'Anna he poornabrahma' meaning they consider 'anna', or food, equal to 'Brahma', or the creator of the universe. Food is God, to be worshipped. Apart from this, the people of this state also believe in offering their food first to the lord as a thanksgiving for all that He has given. Especially, on festive occasions, some specific mithais (sweets) are offered such as Ukadiche Modak (Ganesh Chaturthi) and Satyanarayan Puja Sheera.
Even inside the state itself, one can find distinguishing flavours and food styles that make eating an interesting activity altogether. Maharashtrian cuisine is divided into two, Konkani, and Varadi. Though quite different, both use a lot of seafood and coconut.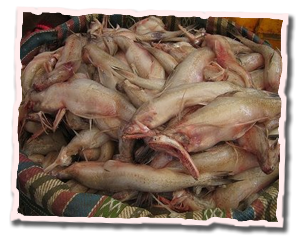 Grated coconuts spice many kinds of dishes, but coconut oil is not very widely used as a cooking medium. Peanuts and cashew nuts are widely used in vegetables and peanut oil is the main cooking medium. Another feature is the use of kokum, a deep purple berry that has a pleasing sweet and sour taste. Kokum, most commonly used in an appetizer-digestive called the sol kadhi, is served chilled.

Among seafood, the most popular fish is bombil or the Bombay duck, which is normally served batter fried and crisp. All non-vegetarian and vegetarian dishes are eaten with boiled rice or with bhakris, which are soft rotis made of rice flour. Special rice puris called vada and amboli, which is a pancake made of fermented rice, urad dal, and semolina, are also eaten as a part of the main meal.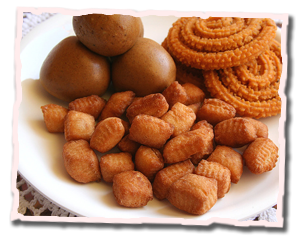 In the vegetarian fare, the most popular vegetables are brinjals. A popular style of cooking brinjals is bharlivangi or baby brinjals stuffed with coconut. Maharashtrian fare is incomplete without papads, which are eaten roasted or fried. The most popular desserts of Maharashtra are the puran poli, which is roti stuffed with a sweet mixture of jaggery and gram flour, and shreekhand, which is sweetened curd flavored with cardamom and saffron. Food for festival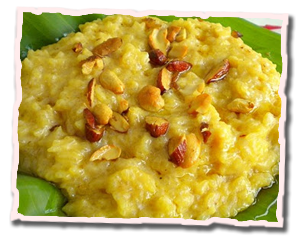 Gudi Padwa, Holi, Haritalika, Ganesh Chaturthi, Diwali, Makara Sankranti are some of the festivals native to the state of Maharashtra. And some special foods during these festival times are as follows:
Gudi Padwa: Soonth Panak, Sprouted Chana Usal
Holi: Puran Poli
Haritalika: Coconut Potali
Ganesh Chaturthi: Modak
Diwali: Shankarpali, Badam Halwa, Chakli, Karanji.
Makar Sakranti: Tilgul, Shengdana Chikki
Food in Weddings After the marriage ceremony is done with, guests sit down to a traditional meal served on a banana leaf. The meal is entirely vegetarian in nature and is created without any onion or garlic. It consists of a selection of vegetables in coconut gravy, green mango chutney, cucumber and peanut salad, rice, puris, golden dal called `varan' and a sweet dish like jalebi, creamy basundi or saffron-scented shrikhand. `Mattha' or coriander-flavoured, salted buttermilk complements the meal which ends with a sweet `paan' called `vida'.