Ajinkyatara Fort
Ajinkyatara there is Devi Temple of Magali Devi. It's a nice, spiritual place. There is also a renovated temple of Ganesha near it. Devotees pray to Devi here every morning and evening. A must visit temple. Landscape is also nice here. They call it 'Khalachi Magalai' meaning Maghali Devi temple near the base since there is another one on the top. We'll see that also soon... From the back side of this Devi temple, you can start climbing the fort.
The way is somewhat steep and many trees along the way. So, it gives a good feel. This will lead us to 'Dakshin Darwaja' (South Gate). On the way you can find trees with colorful leaves. Thank god, the Sun was not hot that day. I was very comfortable and not exhausted. You'll find a small hill range to your left as you travel on this way. This is called 'Untachi Path'- Back of a Camel since it looks like it :-) I have been there once. Little adventure. People who love trekking can like going there. Doesn't take much time. Sky and clouds were also spectacular.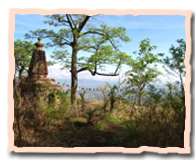 Ajinkyatara has in all 7 lakes on the top. There were two Shiva Temples on the top of fort, one is called Ratneshwar,Interesting part is you can see colorful clothes hung on a rope in the back. This is a part of ritual by Tibetans (who live in the city).
Ajinkyatara Fort Map

View Ajinkyatara Fort in a larger map
How To Reach
By Air
Nearest Airport is at Pune and Kolhapur.
By Rail
Satara Railway Station is connected by all stations of important cities.
By Road
Pune - 115 km and from
Mumbai - 285 km.
Buses for Satara are available from Pune, Mumbai, and Kolhapur.
Nearest Tourist Place
| | |
| --- | --- |
| | Sanjjangad Fort |
| | Yawateshwar hill |
| | Nandgiri |